"Hot stone massage" is currently one of the most popular therapeutic massages. Apart from unique massaging techniques, one can enjoy various benefits from the hot stone. This kind of therapy may cost you higher than Thai traditional style or other types of massage. So, if you are wondering where the volcanic hot stones come from or why they are suitable for a massage, we would like to take this opportunity to introduce you to this new science of healing.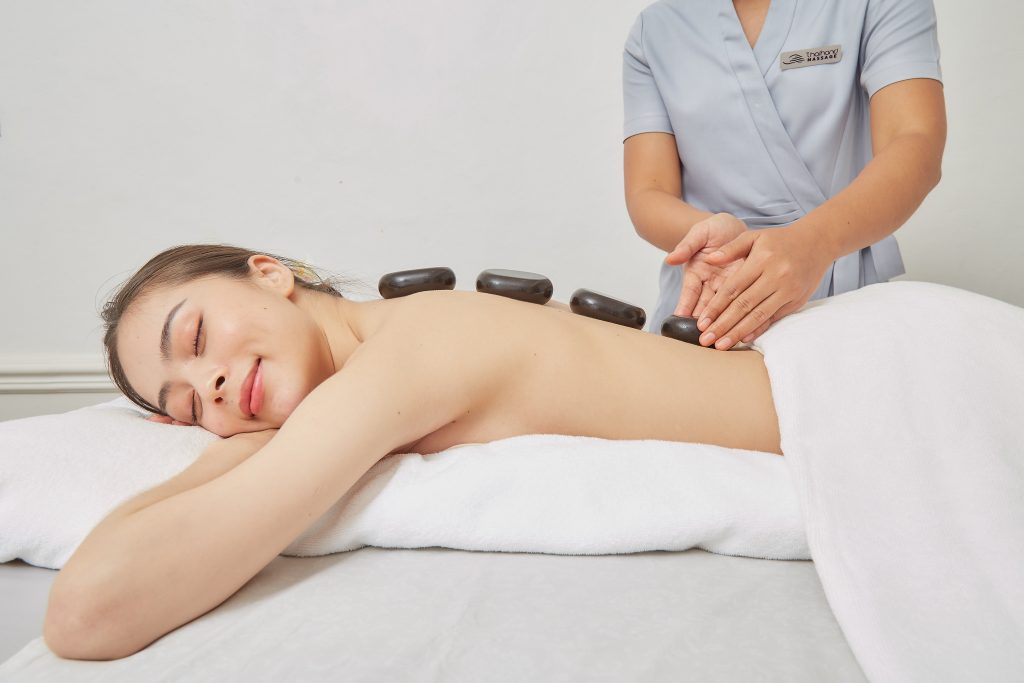 What is Hot Stone Massage?
It is a type of massage that uses hot stones as a heat diffuser to different areas of the body instead of pressing with palms. These stones evenly applies pressure to the muscles, and the heat can well transfer to the inner skin. As a result, they help reduce pain and stiffness. And when the heat transfers into the body, it also stimulates blood circulation. Regular stone massage will also brighten your skin. To sum up, we can get full benefits from it.
What kind of stone is used?
You might be wondering what kind of stone is used and whether such stone is man-made. The answer is: most stones used are basalt, a rock formed from rapid lava cooling on the earth's crust. Basalt has a fine texture, its surface is quite porous, and, most importantly, it is a stone that can hold heat very well. Formed from lava, this stone is rich in various minerals. To be used in the massage, it must be cut and polish so that its surface is smooth and is the right size to massage each muscle group. Suitable stone size will make heat transfer into the inner muscle fully.
Benefits from this type of massage
Stimulating blood circulation
Reducing muscle pains and stiffness
Alleviating premenstrual pain
Relieving stress, fatigue and the symptoms of office syndrome.
The minerals from the stone will help make your skin glow
The heat helps detoxify the pores
Who should have Hot Stone Massage?
Actually, anyone with physical fatigue can benefit from the hot stone massage. This is especially true for those suffering from office syndrome or back pain, because you will feel relaxed once you have the massage. In addition, those who like skin-brightening massage like aromatherapy massage, hot stone massage is another option that will nourish your skin as well.

But be careful! Only skilled massagers should give you hot stone massage because the stone's heat can cause injury or skin burn.

For anyone who wants to try it out, don't wait! Just book a massage through ThaiHand, and you will receive great promotions from various massage parlors. You can choose any time and date that is convenient for you.

Sources:

https://www.healthline.com/health/hot-stone-massage

https://www.verywellhealth.com/hot-stone-massage-89737